Being a landlord can be incredibly hectic. Maintaining a profitable business while keeping on top of repairs and paperwork, making sure your tenants are happy, and staying within all the ever-changing rules and regulations are all challenges that landlords deal with on a daily basis. This guide gives you all the information you need to know about your legal responsibilities as a landlord, and some new changes in legislation which may affect your property business.
The Legal Responsibilities of Landlords
As a landlord, it is your responsibility to make sure your tenants live in a safe and comfortable environment. This includes:
Making sure all gas and

electrical equipment

is safely installed and maintained,

including fitting and testing smoke and carbon monoxide alarms and ensuring the equipment for supplying water, gas and electricity is kept in a safe working order.

Providing an Energy Performance Certificate for the property.

Protecting your tenant's deposit

in a government-approved scheme.

Giving tenants a copy of the

How to Rent Checklist

when

they start their tenancy with you.

Upholding the duty to allow tenants to enjoy their home, by not interfering unnecessarily in the property, and not entering the property without their permission.
The responsibilities of a landlord can change depending on the type of tenancy, but these basic rules will always apply.
The Tenant Fee Bill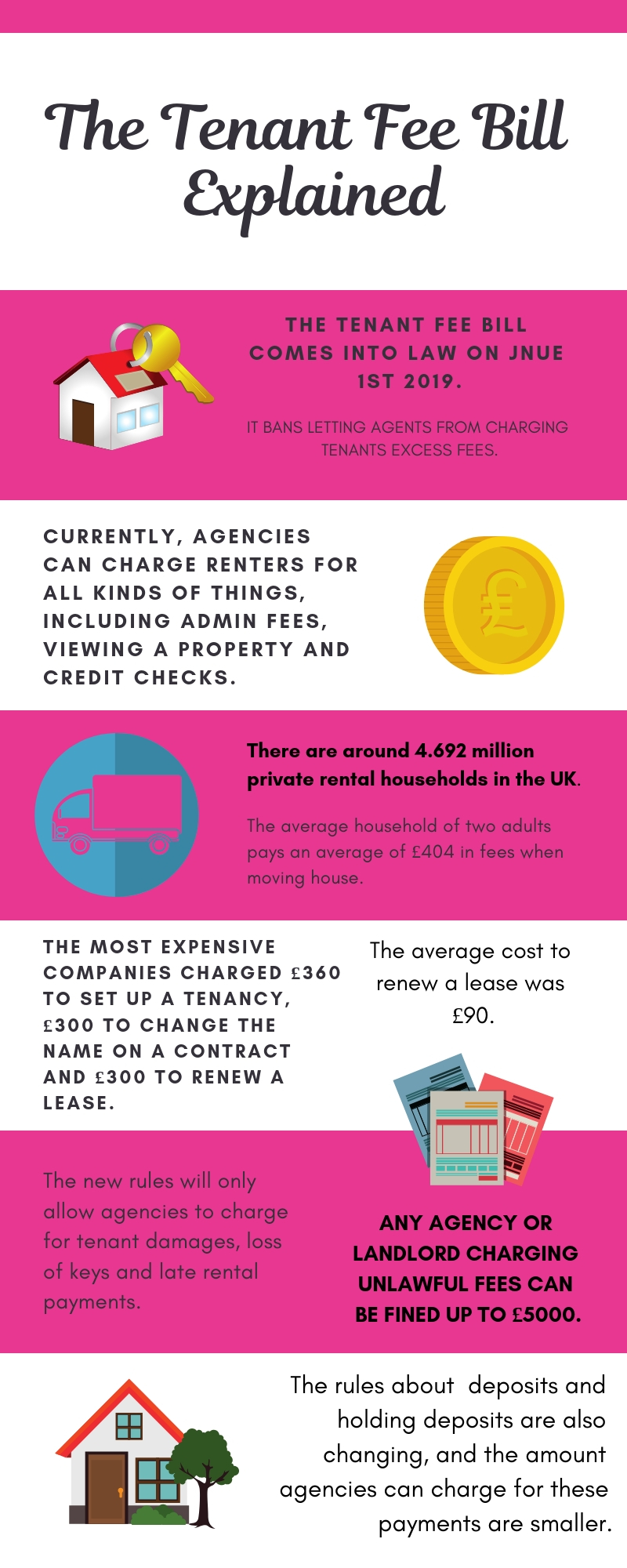 From June 1st 2019, the Tenant Fee Bill will come into law, cracking down on fees outside of tenant damages. Examples of these include:
Charging for guarantor forms.

Credit checks.

Inventories.

Referencing.

Professional cleaning services.

Admin charges.

Requirements to have specific insurance providers.
For example, currently some of the most expensive agencies charge around £360 to set up a tenancy, and £300 to change a name on a contract or renew it.
Under the new rules, these would be considered prohibited payments, and the landlord or agency can be charged up to £5,000 by Trading Standards. Fees for late rental payments and loss of keys are still allowed however.
Rules on deposits and holding deposits are also changing. Tenancy deposits are restricted, with tenancies under £50,000 a year limited to a deposit of no more than five weeks rent. For properties over £50,000, the limit is 6 weeks rent.
Refundable holding deposits of no more than one week's rent are permitted, but if the landlord or agent decides not to move forward with the tenancy, they must be returned within 15 days.
The Right to Rent Act
The Right to Rent Act came into force on the 1st February 2016, and applies to all private landlords. Right to Rent checks have to be carried out for all new leases, and failure to comply with Right to Rent legislation results in a fine of up to £3,000 per tenant.
These checks are to ensure you are not renting your property to someone who isn't allowed to stay in the UK.
There are some exceptions to Right to Rent checks, including:
Some accommodation provided by local authorities.

Student accommodation, where the student has been nominated by a higher education institution.

Hostels and refuges.

Company lets.

Holiday accommodation.
Changes in laws can affect the way your business works, so keeping on top of new developments and rules is vital to make sure you are covered for industry developments. As a residential landlord, we understand that you need the most competitive premiums available while ensuring your property is fully protected.
At JonSimon Insurance, we specialise in residential properties, so whether you own a house, a portfolio of houses, a block of flats or a mixed-use building, we have the right policy for you.
Our policies cover you for:
The cost of reinstating your property in the event of loss or damage.

Any loss of rent if your property is rendered unusable following an insured event, or the cost of comparable alternative accommodation for your lessees whilst your property is repaired.

Any claim against you, as property owner, for third party injury or damage.
In addition, we can provide extra complimentary covers for the following:
Legal Expenses.

Costs of repossessing your property.

Tenants defaulting.

Directors and Officers liability insurance.
All of our policies are bespoke, and we have a team of property specialists who understand your business and will be available to assist you with any issues, including, but not limited to:
Liaising with your property manager to ensure service charges are collected.

Reassuring your lessees regarding the scope of cover and price of insurance.

Advising you on all aspects of your policy to give you peace of mind.
Our team offers an immediate, personal service to ensure any and all issues are resolved to your complete satisfaction.
To find out how we can help your property business, contact one of our property specialists to get your no obligation quote.